A few months ago we reported that Screwfix were the victims of a Fathers Day WhatsApp scam. British Airways are the victims to the latest scam to hit the popular messaging service.
What is the WhatsApp Black Friday British Airways scam?
There is a link being shared by compromised accounts. The link is titled 'British Airways 2022 Black Friday Giveaway', with a photo of a British Airways plane. There may be a brief description of what is being offered, and what looks to then be a legitimate website address. Then finally, the link.
Here is a screenshot of received by somebody from one of their contacts: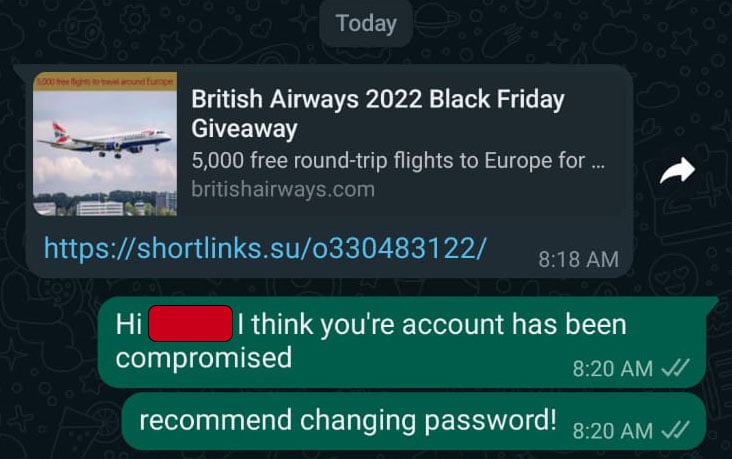 Looks legitimate…but is it?
The recipient hadn't spoken to this contact for some time, and there was no greeting or 'how are you, it's been a while', or similar wording. So to receive just this link, out of the blue, was the first alarm. The second alarm was the words 'free' and 'giveaway'. That would be awfully generous of British Airways to give away 5,000 flights, don't you think?
But the big one is the link – shortlinks.su. What is that? It sure isn't a British Airways link. At the time of writing, the domain no longer exists, but we're willing to bet at some point this would have been a form asking for your personal details to enter this fabulous giveaway, only to find out you are actually handing your details to a scammer.
What do I do if I receive this message?
To help protect yourself and others, we recommend the following:
Do not share or forward the link.
Do not tap or click the link.
Ask the person who sent you the link if they purposefully sent that or not. If they didn't, advise them to change their WhatsApp password
Why does this happen?
WhatsApp is a great tool to keep in touch with friends, family and work colleagues – but scammers know this. They take advantage of this fact by using compromised accounts (account details that have either been linked or obtained via deception scams) and sharing links between contacts. If you receive a message like this from someone you know, you may think it is legitimate.
Black Friday is also approaching, which may make the offer seem more legitimate. Many know that Black Friday is the time of year that they could save a lot of money on big ticket goods. But a free holiday from British Airways seems a bit too good to be true, doesn't it?
Our advice
Our advice is always the same with these scams.
If something looks too good to be true, then it probably is.
If in doubt, do not click the link. Contact the original source to find out if they did indeed send the message.
Check the URL of the link. You can use our free Check a website tool which will tell you whether the link is likely to be legitimate or not.