If you receive any communication claiming from TV Licensing that you're not sure about, the first thing to do is STOP. Do not rush into giving away any of your personal information. Scammers will use a variety of methods to try and obtain information from you – typically via email, letter, text, phone call, or even a visitor at your door.
emails
Email scams can appear almost identical to genuine emails. Here is an example of a real TV Licensing email, labelled to help you spot if the email you have received is a scam.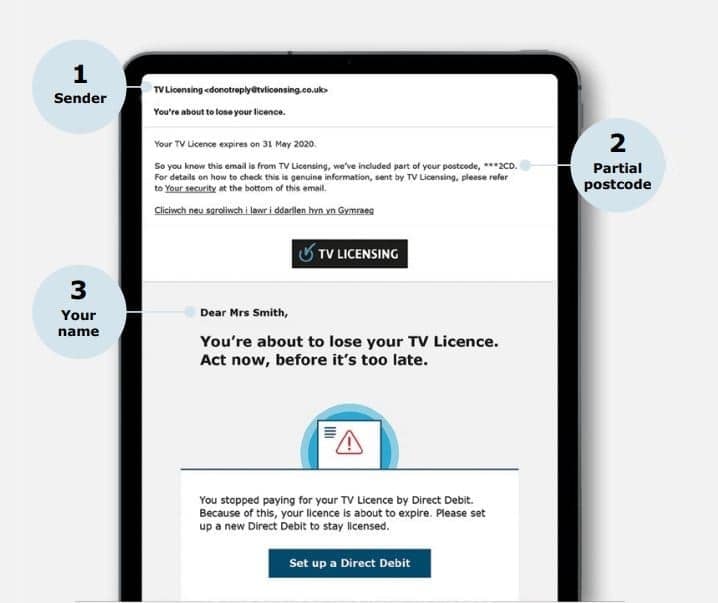 Check the sender
Genuine TV Licensing emails are sent from: [email protected] or [email protected] On a computer or laptop, you should be able to see the real email address between the < > symbols. But on a mobile device, you may need to select the sender's name to see the address. TV Licensing Customer <[email protected]>TV Licensing
Partial postcode
If you have provided TV Licensing with your postcode details, our emails will include part of your postcode and/or the name on the licence.
Look for your name
If you have given TV Licensing your name, they will always address you using your last name and title. Be wary of emails that address you only as "Dear client" or "Dear customer" – or just use your email address (or part of it).
Check spelling & grammar
Look out for slightly different spellings and things like hyphens and other grammatical errors, such as full stops in odd places. Bear in mind that some scammers spoof email sender addresses to make their messages seem authentic.
Check links
Always check links in an email before clicking on or tapping them. Be particularly wary of links that promise you money/refunds. If you are on a computer:
Hover over the link with your mouse (but don't click it). This will reveal the full web address that you are being sent to. If you're on a smartphone or tablet:
Press and hold the link (do not release while you are on the link). This will reveal the full web address that you are being sent to.
Note that TV Licensing use two URLs (addresses) which both take you to the same website. These are www.tvlicensing.co.uk and the shortened version which is easier to type in and identify as the correct one: www.tvl.co.uk.
If you are unsure
Do not click on any links or give any personal details. Sign in at tvl.co.uk/yourlicence – using your licence number, the name on the licence and the postcode – to check your licence, expiry date and payment details.
Text messages
How to tell if a text message is genuinely from TV Licensing or not.
When you may receive a genuine text message
If you are a TV Licensing payment card customer, you may receive a text message asking you to make a payment. If you are a Simple Payment Plan customer, the link takes you to their secure payment provider (tvlspp.paythru.com).
If you have just signed up for Direct Debit, you may receive a text message letting you know when your first payment will be taken.
If you have contacted TV Licensing by phone or on our automated service, they may send you a confirmation message or a satisfaction survey.
If you receive your licence through the post, they may send you a message asking you to go paperless.
Phone calls
Occasionally, TV Licensing may call you if there is a problem with your TV Licence. This will usually be about a missed payment, a cancelled Direct Debit, or a reminder to renew.
TV Licensing will call you from: 0300 790 6075, 0300 555 0285 or 0300 555 0355. Do bear in mind that some fraudsters use technology to spoof caller numbers to make their calls appear genuine.
If you are not sure the call is genuine, do not provide any personal information. You can sign into your licence at tvl.co.uk/yourlicence to view your payment plan and check if there is any action required. If you have contacted TV Licensing with a query, one of their team may call you back to discuss it. This may be from a withheld number, but the call will only be regarding the query you have raised.