Christina and Martin Trim have been dairy farming in North Dorset since 1991. Their herd of Holstein Friesian cattle numbers approximately 300 including young stock and heifers. The breed is renowned for high production of high-quality milk, with Christina and Martin selling theirs to one dairy for drinking only rather than processing into other foodstuffs.
With bovine tuberculosis being so prevalent, cattle farmers are required to test their herds every six months to ensure they are clear of the disease. Christina and Martin were testing their yearlings on Martin's mother's nearby farm, a process which involves a vet or other approved tester injecting a small amount of tuberculin into the skin which, if the animal is infected, causes the immune system to react to the tuberculin and result in a localised swelling a few days later. Because the young calves are not accustomed to being herded into a barn and try to escape, they are manoeuvred through a crush, a type of metal gate which separates and directs them where required. Martin's mother's crush was quite old and rusty, prompting Christina and Martin to consider investing in a newer and better type.
The scam
Their son Matt, who also works on the farm, came across a considerably newer and better-designed crush whilst browsing Facebook Marketplace. Having spoken with his parents, Matt responded to the advertisement and approached the seller, determined that it was what they needed and represented good value, being advertised at £2,500 which was around a quarter of the cost of a new crush. The advertisement had included photos of the crush the seller, also a farmer, had posted photos of his family on his Facebook page, building Matt's trust.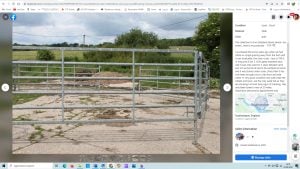 Christina recalls: "They were communicating via text, phone calls and Facebook Messenger. We had no reason to doubt anything, especially as he was a fellow farmer, giving us a degree of trust."
Christina continues: "As the crush was located some 800 miles away in the Shetland Islands, which we thought was too far to travel when we were busy running the farm, it was agreed that we'd pay a deposit of £600 to cover the cost of transporting it to Dorset. Then, if we still wanted to buy it, we could pay the balance.
"The week before the crush was due to be delivered, he sent us an invoice and I set him up as a new recipient in online banking. His name and account details matched."
On the agreed delivery date, the crush failed to arrive and when it had still not materialised by the evening, Christina and Martin started to realise that they had a problem. Matt attempted to contact the seller, but there was no reply to either his messages or phone calls.
The outcome
Christina immediately contacted Action Fraud to file a report, and also called the bank. As the payment had been made by bank transfer, it was too late to stop it and she was told that the bank witnesses online fraud incidents such as this every day. She was subsequently told by the bank that they were not prepared to repay the money as not enough care had been taken to determine the legitimacy of the advertisement or the advertiser.
Naturally upset about the loss, Christina says: "In hindsight, we should have paid via PayPal or with a credit card, but it was so convincing and in fact the advertisement re-appeared on Facebook Marketplace not long after we were scammed."